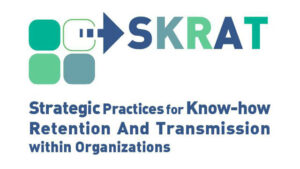 Strategic Practices for Know-how Retention and Transmission within Organizations (SKRAT)
Project duration: 10/2008 – 09/2010
Project code number: 142570-LLP-1-2008-1-ES-LEONARDO-LMP
Funding guideline: Lifelong Learning Programme, Leonardo da Vinci
Initial situation
Companies face the challenge of transferring the knowledge of their employees to future generations. This is often a problem when relevant knowledge only exists in the heads of the employees and has never been documented. Know-how acquired over generations is thus lost in the companies.
Target groups and their benefits
The SKRAT project is aimed at SMEs in the metal industry. They are to use a systematic process of recording the work processes, competences of the employees as well as the transfer of these competences to the coming generation of employees. The employees in the SMEs benefit from a transparent and didactic presentation of the relevant work processes. For the employee representatives, such as trade unions and works council members, the methodology enables a better identification of the qualification needs and a corresponding derivation of measures.
Project goal
The SKRAT project aims to gather knowledge in Europe on the topic of knowledge retention and transfer in the context of demographic change and to develop an innovative and practice-oriented action concept for practitioners in companies, training service providers and social partners. It thus expands the possibilities of lifelong learning in companies for all employees. At the same time, the concept helps SMEs with the outflow of knowledge due to fluctuation and enables a more sustainable retention of knowledge and skills in the work process.
Role of ISOB
In the project, ISOB participated in the scientific monitoring and internal evaluation. In addition, ISOB supports the consulting of the operational partners in the conception of the products and the field test. The relevant results are presented in the form of interim and final reports for the different stakeholders.
Products and publications
Conducting a study on the needs of the target groups in the thematic field in the participating countries

Development of a field-tested methodology for knowledge transfer and testing at 20 companies

Conception of a user-friendly handout for advisors, production managers and works council members in the metal industry

Presentation and dissemination of selected practical cases from the trial phase
Partners
Spain (project coordination): Fundación Metal Asturias / FMA (Foundation of the Metal Sector in Asturias for Training, Employment and Qualification)

Romania: Institutul de Stiinte ale Educatiei/ ISE (Institute for Educational Sciences)

Portugal: CENFIM Centro de Formacão Profissional da Indústria Metalúrgica e Metalomecânica (Vocational Training Centre of the Metal Industry)

Great Britain: ENTENTE UK

Germany: IG Metall

Germany: Institut für sozialwissenschaftliche Beratung GmbH
The project was successfully completed and positively evaluated.
We will be happy to provide you with the project results on request. For further information, please contact our Team.